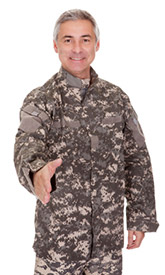 This year, Arisant has seen many organizations' businesses grow and pick up, creating a need to find new employees to join their teams. We also found ourselves looking for new employees. We wanted junior level technicians who would be motivated to learn and grow with us. But because of the highly technical nature of our business, we also need those new hires to hold college degrees, have some basic concepts of technology, and be ready to jump in right away.
Fortunately, one of our principals has a personal connection to a unique, innovative program: Wounded Warrior Project®. She contacted the WWP Warriors to Work™ program and discovered that they have an IT training program in Colorado Springs — practically in our back yard. The program provides participants with training and opportunity for up to three different technical certifications, all that are applicable to Arisant's working environment and support needs. As an added benefit, the program turns out workers who are incredibly prepared and passionate about delivering the best service possible to their new employers.
More than employment
Matthew Sumrack, the Warriors to Work program manager for Wounded Warrior Project, is equally passionate about bringing employers together with veterans recovering from injuries and returning to civilian life.
Sumrack has been managing the Warriors to Work program in the Nashville office for two years and is proud of the unique approach of WWP. The organization strives to honor and empower wounded warriors through a comprehensive approach which addresses four areas of healing: Mind, Body, Engagement, and Economic Empowerment.
"We want to foster the most successful, well-adjusted generation of warriors in our nation's history," says Sumrack. "We offer 20 programs that provide diverse ways to help warriors and their families transition to the next stage of their lives." WWP's 20 programs — including the Warriors to Work program — are free to any warriors who have incurred a service-related injury since 9/11.
These are the employees you really want
Support for the transition from military to civilian life is essential because many warriors have only known military service. "In the area of work, for example, this may be the first time they've stepped into the private sector," explains Sumrack.
However, don't make the mistake of thinking that program participants offer limited contributions to their civilian employers. Sumrack says, "The injuries that warriors have experienced actually often make them more resilient. These are highly trained and highly skilled people who want to continue to serve."
He adds, "They will be assets to any organization. They are able to adapt quickly to new concepts, have strong leadership qualities, are used to being flexible and working independently, and are very results-oriented. At the same time, they have a high degree of respect for procedures and accountability."
Hands-on skills for success
Service members come to the Warriors to Work program to learn how to approach the civilian work world. "We help them learn how to identify and communicate their strengths as they learn how to adjust to their injury — whether it's a physical injury or an "invisible" injury such as combat stress or a brain injury," says Sumrack.
The program pairs applicants with Warriors to Work specialists who are subject-matter experts and have extensive experience in recruiting and economic empowerment. The specialists deliver hands-on assistance with preparing an effective resume, interview techniques, networking through local outlets and social media, and even appropriate dress.
The program also helps place service members in training programs to polish their skills, says Sumrack. "Recently, we had two warriors in an IT training program in Savannah, Georgia, who did an internship with Homeland Security. They ended up being instrumental in cracking a large crime ring. Through that success, we've placed other program participants in a federal program to train cyber-forensics agents."
Program specialists also work with prospective employers to help locate employment opportunities for warriors. Through working with our program specialist, Arisant learned what it's like to hire a Wounded Warrior and what a warrior will bring to our organization.
"We're fortunate because a lot of employers do want to give back to these folks who have given so much to us," says Sumrack. "But they get so much in return. Warriors are motivated and excited about building a career, so bringing a warrior onto their team strengthens the team as a whole. They see increased morale, productivity, and satisfaction when they have these highly motivated people on their teams."
Arisant is proud to support our veterans, and we know that our decision to hire a returning vet is going to be a tremendous benefit to our business. We have the highest expectations for our new hire's contributions, and look forward to a productive and rewarding employment relationship. We encourage our customers and partners to connect with WWP to learn more about this valuable recruiting resource. To apply for open positions at Arisant, go to careers.arisant.com.