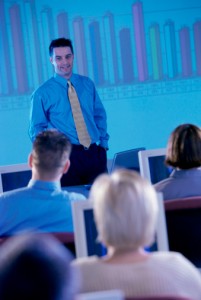 Successful business intelligence (BI) isn't just about deploying a BI solution — it also depends on employees effectively using that solution to turn their data into information that can improve their decision making.
That's why Arisant won't set you up with a BI solution and then leave, forcing employees to figure out how to use it on their own. We remain your partner by offering valuable training courses that cover a broad range of topics. These courses are designed to meet the goals of users based on their needs.
Goal 1: Build a broad understanding of analytics
Before employees can use a BI solution, they need to understand the basics. The course "Building Reports and Dashboards" covers how to use the basic functions of the BI solution and how to build data analyses. Participants learn how to select and filter data for an analysis, choose the best way to report analysis results, format the report, and schedule it for delivery. They also learn how to create interactive dashboards and Key Performance Indicators (KPIs) to display in those dashboards. This course is designed for a wide variety of users, including business analysts, BI managers, data scientists, IT and database administrators, subject matter experts, and end users.
Goal 2: Put in place the building blocks that support user analysis
As with any BI solution, a foundation must be in place before there can be growth. The course "Building Repositories" covers how to create and deploy a BI repository, a crucial building block that's needed to support user analysis. IT and database administrators will find the information covered in this course invaluable.
Goal 3: Flexible, pixel-perfect reporting
Sometimes, information needs to be delivered to a wide audience, including multiple destinations (such as printers, file shares, FTP servers, etc.,) in various formats and languages. In the course "BI Publisher 11g Fundamentals," IT and database administrators learn how to create reports in different formats, including complex forms (e.g. government or tax forms, letters, invoices, etc.). Also covered is how to publish those reports in dashboards, emails, document repositories, and other destinations.
Goal 4: Jumpstart the BI solution
If you need to start getting insights from BI fast, the "OBIEE 11g Boot Camp" can help. It combines and streamlines the information covered in the "Building Repositories" and "Building Reports and Dashboards" courses. IT and database administrators can master all aspects of the BI solution so that they can get a head start on their BI initiatives.
Training when and where you need it
Your employees probably have a lot on their plates. That's why we can conduct in-person trainings at your site and offer them remotely if you have employees in multiple locations. You also have the option of having employees take the courses at Arisant's headquarters in Denver, CO.
Give your employees the training they need for a successful BI solution!