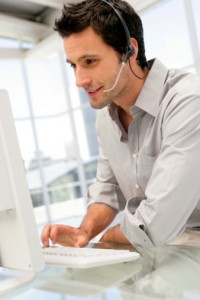 Last December, the Datamark report "10 Business Process Outsourcing Trends to Watch For in 2014" listed onshoring of business process outsourcing as a trend to watch. Across industries, we've seen the report's prediction come true. What's behind the move to bring operations back to the U.S.?
The Datamark report focused on onshoring in the manufacturing sector, but we've seen it across multiple industries. When Arisant was founded back in 2006, businesses were outsourcing IT functions to achieve lower staffing costs. The chief assumption was that a (cheaper) outsourced-staff hour would yield the same productivity as a (higher priced) insourced-staff hour, even if the outside staff was located in a foreign time-zone.
However, the pendulum is swinging, and as offshore tech providers begin to ask more for their services, cost savings may no longer be a reason to keep IT services with an offshore provider. Pundits in every sector from logistics to finance have been watching the shift and noting the primary drivers of the onshoring trend.
Cost — Price used to be the main reason to outsource. However, wages for tech workers in previously low-cost countries have increased dramatically, making the initial savings realized from offshore contracts a non-starter. In addition, as IT functions grow more complex, organizations have realized that saving on staff costs is only one factor in the bigger challenge of complete business optimization.
Security — As cyber security attacks and breaches become daily events, organizations have become significantly more aware of the importance of protecting critical data and intellectual property. Managing extended security processes adds cost and layers of red tape.
Control — Language and cultural differences complicate dealing with a foreign tech services provider. In addition, communication is further complicated by extreme time-zone differences. But even once companies get beyond the communication barriers, they may find that low cost means sacrificing quality. They are looking for providers who provide a deeper partnership with better results and reliability.
Arisant recognized the value that a closer managed-services partnership could bring. We knew that the right combination of automation and highly skilled staff could solve the cost/quality tradeoff and provide secure, lasting value for our clients.
An important reality was that although there were many capable monitoring tools in the market, most of them were only that: overpriced monitoring tools. The existing software solutions were incapable of actually addressing or fixing anything automatically except for the occasional restart of a failed process.
It was clear that to compete, Arisant's managed services would have to be built around extreme automation and highly skilled staff. Luckily for us, our customers equally appreciated low-cost labor and systems that run without interruptions. When a system did run into trouble, they wanted quick and laser-focused problem resolution that could be administered rapidly by expert personnel.
Polaris makes it possible
And so, out of necessity, Polaris was born. Polaris, as its name suggests, was created to be a beacon of hope for an IT environment. Instead of just being able to monitor; it was designed to automatically examine fault conditions; apply heuristic rules; and, for most situations, address fault conditions immediately — then simply notify the support team of its actions.
The results are top-notch. For database and middleware production support scenarios, the actions Polaris is capable of performing automatically, rapidly, and with great accuracy vastly exceed what a typical outsourced provider is capable of doing manually, slowly, and with lots of mistakes. (Sound familiar?)
Today, we are supporting everything in many of our customers IT environments, including databases, middleware, servers, security, LDAP directories, storage, load balancers, and entire ERP systems. With the superior Polaris solution, we can do all of this on-premise or off-premise, for a small fraction of would it would cost to do it with a typical outsourced crew and with much higher reliability.
In addition, many of our customers consider our highly skilled team as an extension of their architecture team. We are experts who provide guidance and support through vision and implementations to meet new and upcoming business initiatives.